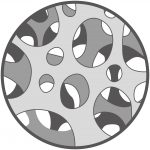 News
12 July 2018: our ANR project CATCH (Dynamic characterization and modeling of coupled structural - chemical - and transport processes: a multiscale approach) is accepted!
1 May 2018: Florian Osselin joins the group as a post-doctoral fellow (Voltaire)
10 Mar. 2018. Myriam Agnel receives the awards of the best poster price at the  "5th Young Natural History scientists' Meeting".
Summary of our activities